Sustainability has been creeping up the political agenda for many years. This may be something you're familiar with as the UK prepares to host the 2021 United Nation's Climate Change Conference, otherwise known as "COP26".
The event is being held in Glasgow this October and will see 190 world leaders and thousands of representatives from business and government discuss how global warming can be mitigated.
As wildlife documentaries and the media continue to highlight environmental issues, it won't surprise you to learn that the popularity of sustainable investments has continued to gather pace. Today sustainable investments are better known as "ESG" investments, which stands for "environmental, social and governance".
According to Morningstar, in the first quarter of 2021 more than £100 billion was invested into ESG funds, more than half of all European flows into funds.
What you may not realise is that there is another factor that's come into play that has driven a step change in demand for ESG investing as the world battles with Covid. Read on to discover what it is, why ESG investing has become more mainstream, and how they performed during the pandemic.
1. The pandemic brought social issues into the spotlight
Covid raised an important area of concern for investors, and that's the way companies treat their workforce. This, together with campaigns such as Black Lives Matter and #MeToo, means investors are now looking far more closely at a company's social behaviour.
If you are too, your choice is improving. Morningstar add that, in the first quarter of 2021 there were 111 new sustainable funds launched, adding to the 532 launched throughout 2020.
Thanks to investors' desire to put their money into funds they feel are more responsible, ESG investments are now far more mainstream after being nothing more than a niche product in years gone by.
2. ESG investing looks like it's here to stay
In a recent interview with CNBC, Credit Suisse's CEO Thomas Gottstein explains it's not only private investors looking at ESG investments, but also institutional investors such as pension funds.
He says companies are attempting to boost their credentials to ensure they "chime" with ESG criteria. While you may see this as evidence ESG funds are now more mainstream, you may also have seen some media reports suggesting ESG investing might be a fad.
If so, a recent comment by investment director at Fidelity International, Tom Stevenson, could put your mind at rest. In an interview with Nestegg, he says:
"The environmental strand reflects the most important challenge facing the world today, climate change. Neither the social nor governance themes are fads either. They mirror unstoppable changes in what is considered acceptable corporate behaviour."
This dovetails with a recent article in the FinTech Times that explains that millennials are prioritising ethically led products and services. It adds that in 2019, research by Allianz found that 64% of millennials were likely to make investment decisions based on societal problems that were important to them.
As many millennials are now aged between 25 and 40, they will set the tone for investing in years to come. With this in mind, it looks like ESG investments could have a bright future.
3. Broadly, ESG funds performed well during the Covid-19 pandemic
While there is currently no data on the performance of ESG funds in Q2 of 2021, market intelligence company S&P Global reveals that most sustainable and ethical funds outperformed the S&P 500, America's main stocks and shares index, in the first five months of 2021.
This is echoed by the table below, which was revealed in February 2021 by the Morgan Stanley Institute for Sustainable Investing. It shows that returns for American ESG equity funds outpaced traditional funds by 4.3% in 2020, with ESG bonds providing returns 0.9% higher than the traditional bond.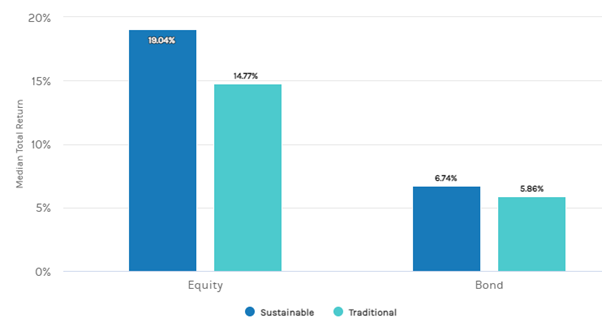 Source: Morgan Stanley
As past performance is no guarantee of future performance, always speak with a financial planner to ensure you understand the investment being considered, its risks and potential growth.
4. ESG funds could have performed well in 2020 because of their criteria
One reason the funds could have performed so well may be the type of companies they typically invest in.
During the pandemic, energy companies and airlines were the businesses hardest hit by the global lockdown, the sort of industries ESG funds typically shy away from. Besides this, ESG funds are likely to favour technology and pharmaceutical companies, which performed relatively well during the pandemic.
While it's impossible to predict the future, there could be both ethical and financial reasons to include ESG funds in your portfolio.
Get in touch
If you feel ESG investments are something you would like to include in your financial strategy, or you would like to find out more about them, please email us on admin@stonegatewealth.co.uk or call on 01785 876222.
Please note
This article is for information only. Please do not act based on anything you might read in this article. All contents are based on our understanding of HMRC legislation, which is subject to change.
The value of your investments (and any income from them) can go down as well as up and you may not get back the full amount you invested. Past performance is not a reliable indicator of future performance. Investments should be considered over the longer term and should fit in with your overall attitude to risk and financial circumstances.