The last year of lockdown was a roller coaster ride of ups and downs. From Captain Tom Moore lifting the nation's spirits as he raised money for the NHS, to home-schooling, cancelled summer holidays and new friendships being born as neighbourhoods pulled together, it's been a year we'll never forget.
As a result, you may have found yourself reflecting on life's priorities and reassessing your work-life balance. You may – if you're able to – have considered retiring earlier than intended, so that you could "smell the roses" and spend more time with loved ones, regulations permitting.
But the pandemic may have made you reassess another part of your life too: your finances. As the nation's economy struggles with the lockdown, it may have provided an opportunity for you to look at your income, spending habits and financial security.
So, what might you have learnt, and is there anything else you need to consider? Read on to discover five key financial lessons you need to know.
1. Tomorrow could throw a curveball, so always have an emergency fund
According to a recent report by the BBC, economists expect unemployment to rise in 2021. While furlough has helped retain some jobs, the Office for Budget Responsibility suggests 2.2 million people, or 6.5% of all workers, could be unemployed at the end of 2021.
Official statistics from the Department for Work and Pensions – as shown in the graph below – demonstrates that six million people were claiming Universal Credit on 14 January 2021, almost double the number claiming on 12 March 2020.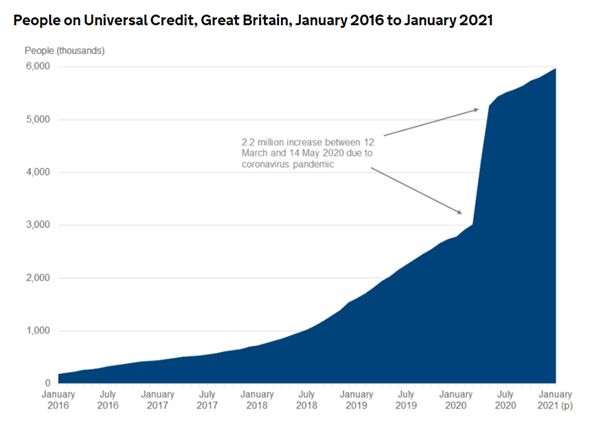 Source: Department for Work and Pensions
Many of those now claiming benefits would not have expected to be doing so just weeks before the pandemic hit, highlighting the need for an emergency fund.
The fund is your "financial buffer", that you can use to deal with unforeseen events without having to access investments, sell assets or empty other savings accounts that may have a goal attached to them.
But putting money aside each month into the emergency fund, you have peace of mind that the unexpected is less likely to result in financial hardship in the short term. The fund needs to be in an easily accessible account with enough money to cover three to six months' total expenditure.
That said, every household is different, so speaking to a financial planner who can clarify how much your "emergency fund" should be, will ensure you have an adequate financial buffer in the short term should you lose an income.
2. Protect the most important asset in the home – you and your income
Typically, we insure our home and its contents. In many cases, we insure our pets, our bikes, even our mobile phone – but all too often we do not insure the most valuable thing in the household: the person bringing in an income, or indeed, that income.
The importance of life cover or income protection cannot be understated for most people, yet many choose not to have it believing that nothing will happen to them, or that they have the time to deal with it in the future.
If the coronavirus has demonstrated anything, it's that we don't know what tomorrow holds. That has always been the case though, demonstrated by Cancer Research's estimate that 50% of us will be diagnosed with cancer during our lifetime.
If treatment for an illness of any kind results in extended time off work, having insurance that replaces your income means you do not need to worry about meeting your financial obligations – or using your hard-earned savings to do so.
As monthly overheads could include your pension, not contributing to it for an extended period could also derail any retirement plan you had. Most importantly though, being able to meet your monthly outgoings probably means you will not rush back to work before full recovery, just to make ends meet.
The situation is different for life insurance. It is purchased for loved ones left behind, not the policy owner, and could make the difference between your loved ones being able to keep the family home or not, in the event of you passing, or having financial peace of mind at a deeply difficult time.
Insuring yourself or your income against life's curveballs provides the knowledge that whatever life throws at you, you or your family will be protected.
Life Assurance plans typically have no cash in value at any time and cover will cease at the end of term. If premiums stop, then cover will lapse.
3. Clear debt as quickly as you can
While the lockdown has created a lot of uncertainty, it may also have provided you with an opportunity to reduce debt thanks to the money saved from being indoors. Without the ability to socialise, travel and holiday, the Bank of England reported that households across Britain repaid £7.4 billion of debt from credit cards and personal loans.
Paying off debt is likely to save you money as you will not be paying interest on the outstanding balance. With credit cards, the level of interest could be high, meaning your repayments will not eat away at the debt as quickly and pay the credit card company potentially large sums of money over the long term.
Clearing debt also means you have more disposable income, allowing you to create a larger financial buffer for unexpected events.
4. Investing is about time in the market, not timing the market
One of the biggest risks of investing can be losing your nerve when the market takes a major downturn, as it did during the Covid-19 outbreak in March 2020. After wild swings up and down, all three major stock market indices in the US closed more than 30% lower, resulting in some investors panic selling to avoid greater losses.
A year on, despite the world still battling with Covid-19, stock prices have largely rallied. At the end of November 2020, the BBC reported that America's Dow Jones and the S&P 500 index had hit new highs.
This is highlighted in the below graph that shows how the US stock market performed between January 2020 and 23 March 2021.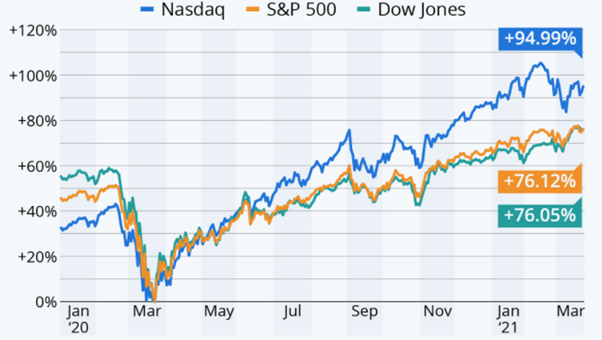 Source: Statista
Sadly, this meant those who sold stocks in March 2020 could only watch on as the markets recovered, leaving them to lock in the loss they made when they sold.
Financial planners work hard to help you understand that patience is key and are happy to discuss market movements to put your mind at rest. Taking a long-term approach to your investments and not reacting when the market falls is the cornerstone of any financial strategy and having a professional to talk to can make it easier.
5. Speak to a professional financial planner
One way to avoid panic selling and decisions you later regret is to work with a professional financial planner. They can help you:
Achieve your financial goals and aspirations
Feel more confident about dealing with your wealth, enabling you to make better decisions
Provide you with peace of mind that your financial strategy is on track and in line with your aspirations
Help you – and your family – enjoy the life you want.
Get in touch
If you're thinking about your financial situation, would like to reassess your finances or want guidance in these uncertain times, get in touch by email on: admin@stonegatewealth.co.uk or call us on 01785 876222.
Please note
The value of your investment (and any income from them) can go down as well as up and you may not get back the full amount you invested. Past performance is not a reliable indicator of future performance. Investments should be considered over the longer term and should fit in with your overall attitude to risk and financial circumstances.
This article is for information only. Please do not act based on anything you might read in this article without speaking to a financial professional first.