In April 2022, Ofgem increased the energy price cap by 54%, something the Independent reported could add £693 a year to the average household bill. It's unwelcome news as many contend with the increasing cost of living, otherwise known as "inflation".
According to the Guardian, some households could see their inflation rate reach 10% by the end of 2022. One group that may see this happen are pensioners or those about to retire, as they tend to use more energy to heat their home during the day.
As the cost of living rises, so pensioners may be forced to take more money from their pension to maintain their lifestyle. If you're one of these, you might be jeopardising your financial security later on in life.
Read on to discover why, and five clever steps you could take to help inflation-proof your pension.
Inflation could significantly reduce your pension's longevity
As inflation rises, so the cost of living goes up. This means you may need to draw a larger income from your pension pot to maintain your lifestyle, which might mean your retirement fund runs dry later in life.
As the following illustration shows, if there is a sustained inflation rate of 5%, a £100,000 pension pot could run out 19 years earlier than if inflation remained at 0%. The illustration assumes that an income of £5,000 a year is taken, and the pension pot enjoys 4% growth net of charges.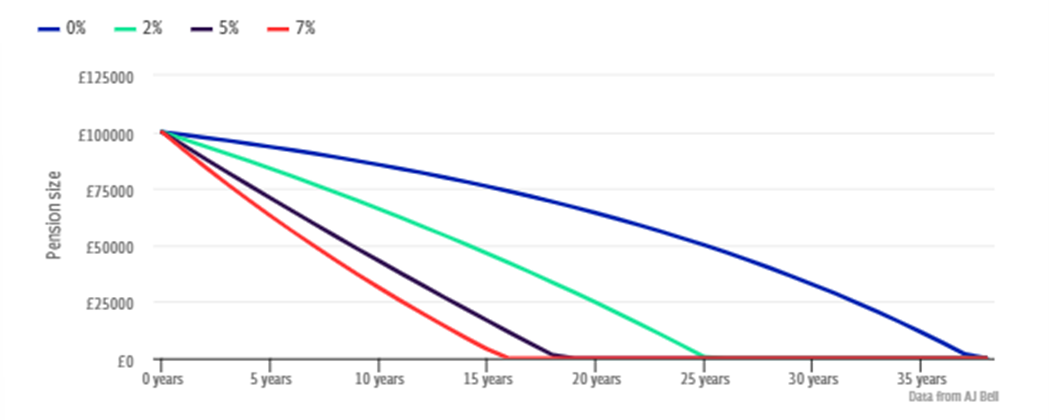 Source: the Telegraph
With this in mind, an article in Moneyfacts revealed a sobering statistic: In January 2022, pensioners withdrew an average of £1,944 in income, which is 25% more than the average amount withdrawn over the previous four Januarys.
It's not all bad news though, as there are steps you can take to help inflation-proof your pension pot and potentially extend its longevity. Let's consider five of them now.
1. Use up savings
Instead of increasing the amount you take from your pension pot, you may want to consider using other savings and income streams if you have them. This could help preserve the value and longevity of your retirement fund, and help you maintain your standard of living.
That said, care must be taken as you will typically need to maintain an adequate emergency fund. A financial planner can confirm whether this is the right strategy for you, and how much you should hold in your emergency fund.
2. Don't take your lump sum
If you're approaching retirement, you might want to postpone taking your tax-free lump sum, which is typically 25% of your pension pot's value. This is because you are withdrawing a large proportion of your pension pot, which then reduces its growth potential and ability to keep pace with inflation.
Furthermore, if you place the tax-free lump in cash accounts, you could significantly reduce its value in real terms over the long term.
To demonstrate this, consider the following. According to Moneyfacts, in April 2022 the top easy access savings account offers 1.5%, and the best fixed-term deal – which could mean locking your money away for up to five years – offers 2.5%.
Both are significantly below the rate of inflation, which the Office for National Statistics revealed was 7% in March 2022, up from 6.2% the month before.
3. Reconsider your pension's investment funds
As you reach retirement age, some pension providers will "lifestyle" your pension. This means they place it into a lower-risk fund, which protects any growth your pension fund has made from any potential downturn in the stock market.
While this might make sense, it could reduce your pension's growth potential, which may mean it cannot keep pace with inflation.
With this in mind, you may want to consider keeping all or part of your pension in higher-risk investment funds, which could help boost potential growth. As this could increase your pension's exposure to risk, always speak to a financial planner before going ahead as they can confirm if it's the right strategy for you.
4. Work part-time
Another way to extend the longevity of your retirement fund might be to work part-time, as this could boost your income without having to take more from your retirement fund.
It could also mean that you can make further contributions to your pension, which may help boost its value and longevity. That said, beware of the Money Purchase Annual Allowance (MPAA), which could be triggered if you take a flexible income from your pension while working.
The MPAA means that your Annual Allowance, which is the amount of money you can contribute to your pension every year and receive tax relief, reduces from up to £40,000 to just £4,000. As this could reduce the tax uplift the government provides to your pension, it could reduce its growth potential.
5. Postpone your retirement
If you are approaching retirement, another option might be to delay it and continue working. This could allow you to continue contributing towards your pension, boost its value and extend its longevity.
A financial planner could help confirm whether it is the right strategy for you. They will also help you create a retirement strategy that could ensure you can enjoy the life you want in retirement without the risk of your pension running dry.
Get in touch
If you would like to discuss ways you could protect your pension and retirement lifestyle from the effects of inflation, email us on admin@stonegatewealth.co.uk or call 01785 876222.
Please note
This article is for information only. Please do not act based on anything you might read in this article. All contents are based on our understanding of HMRC legislation, which is subject to change.
A pension is a long-term investment not normally accessible until 55 (57 from April 2028). The value of your investments (and any income from them) can go down as well as up, which would have an impact on the level of pension benefits available.
Your pension income could also be affected by the interest rates at the time you take your benefits. The tax implications of pension withdrawals will be based on your individual circumstances. Levels, bases of and reliefs from taxation may change in subsequent Finance Acts.